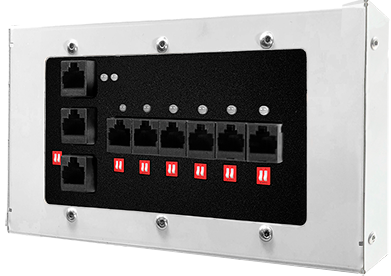 Powers and remotely controls up to 140 switches using only Cat-6 cable.
Multiple Power Busses can be connected in series to power and remotely control up to 500 switches.
Can remotely control all connected switches from a PC, network or Smart Phone.
Recieves commands from any industry standard DMX-512 Lighting Control device.
Delivers the simplest, easiest to install, and most cost-effective building lighting control system ever developed.
Eliminates AC power, metal conduit, metal J-boxes, wire nuts, and the heavy gauge wire required to install current switch technologies.
Lowest carbon footprint of any building lighting control technology.
Operates using safe 24 VDC, Class-2 power.
Astron's Lighting control can be configured so it cannot be "Hacked".
Emergency back-up option auto-switches to battery power to maintain lighting control.